WESTERN INLAND AND COASTAL LIGURIAN APENNINES
(ITALY)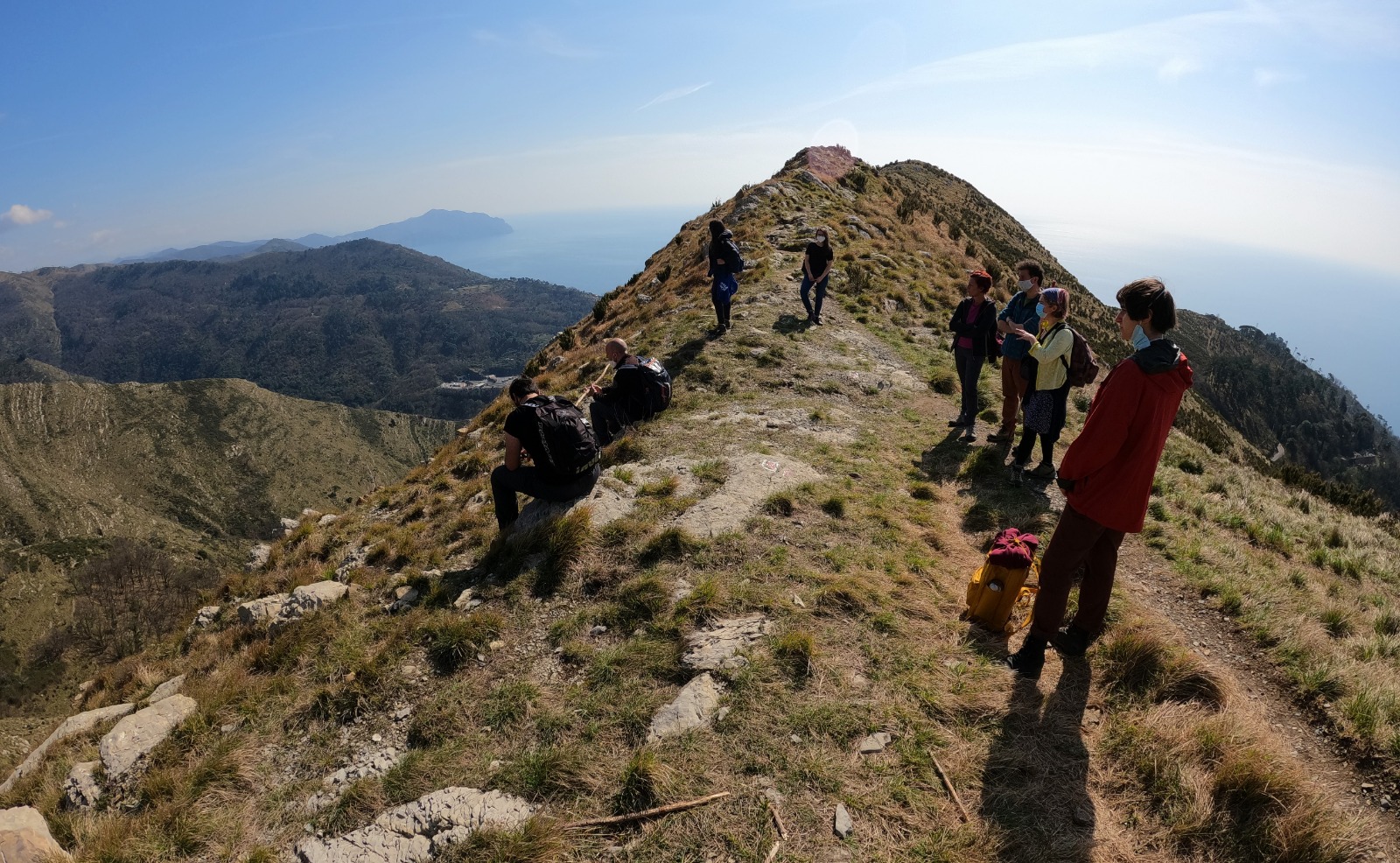 This case study takes a transect through the Vara and Sturla valleys, connecting inland and coastal rural areas. Scattered settlement, extensive common lands and transhumance have characterised this region since the Middle Ages. Previous research has documented historic management practices and their impacts on the present landscape and vegetation, and on important archaeological sites.
The rural heritage of this area includes rural hamlets with churches and historic buildings, local products and traditional songs and instruments. Local museums, cultural institutions and Natural Parks are active in the protection of cultural heritage, which is threatened by depopulation, the abandonment of rural activities, a lack of dialogue between new and old residents and the disappearance of local knowledge. Various measures exist to protect the natural values of local landscapes (e.g. Regional and National Natural Parks, Natura 2000 sites) while differences in land ownership (private, public, collective) permit comparison of conservation and protection practices between different, but neighbouring, contexts.
CHEVIOT HILLS
(UNITED KINGDOM)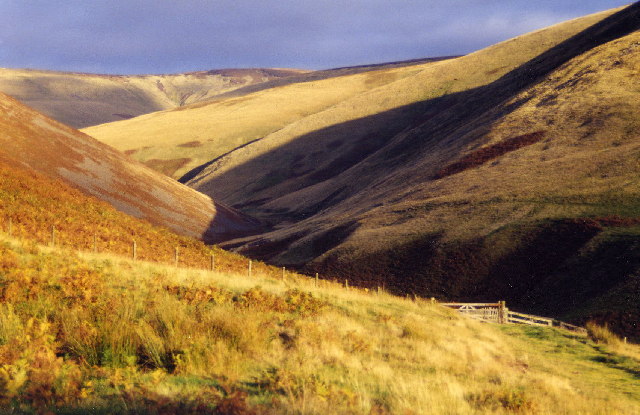 On the border between England and Scotland, this area of open moorland, isolated farmsteads and steep-sided valleys has rich evidence of past land use, from prehistory to the present, including seasonal transhumance and permanent hill farms. Apart from military land, the area is largely privately owned. Traditional hill farms operate alongside forestry, hunting, tourism and outdoor recreation. Challenges include the economics of farming, depopulation and the loss of traditional skills; climate change impacts on land use and habitats; and predicted increases in tourism, recreation and forestry. Numerous individual heritage assets are managed as protected areas. The English part of the Hills also lies in Northumberland National Park, which has multiple conservation, public access and community development aims. Land use decisions are supported by extensive historic environment spatial data, e.g. the Historic Land Use Assessment (Scotland), Historic Landscape Characterisation (England) and Historic Environment Records. Interpretation of this data is supported by previous academic research on landscape archaeology, settlement history and historical ecology. This case study will link the conservation of upland heritage to traditional farming and land use and to future landscape change. It will compare the conservation regimes in England and Scotland, and those within/outside the National Park.
SINJAJEVINA PLATEAU (MONTENEGRO)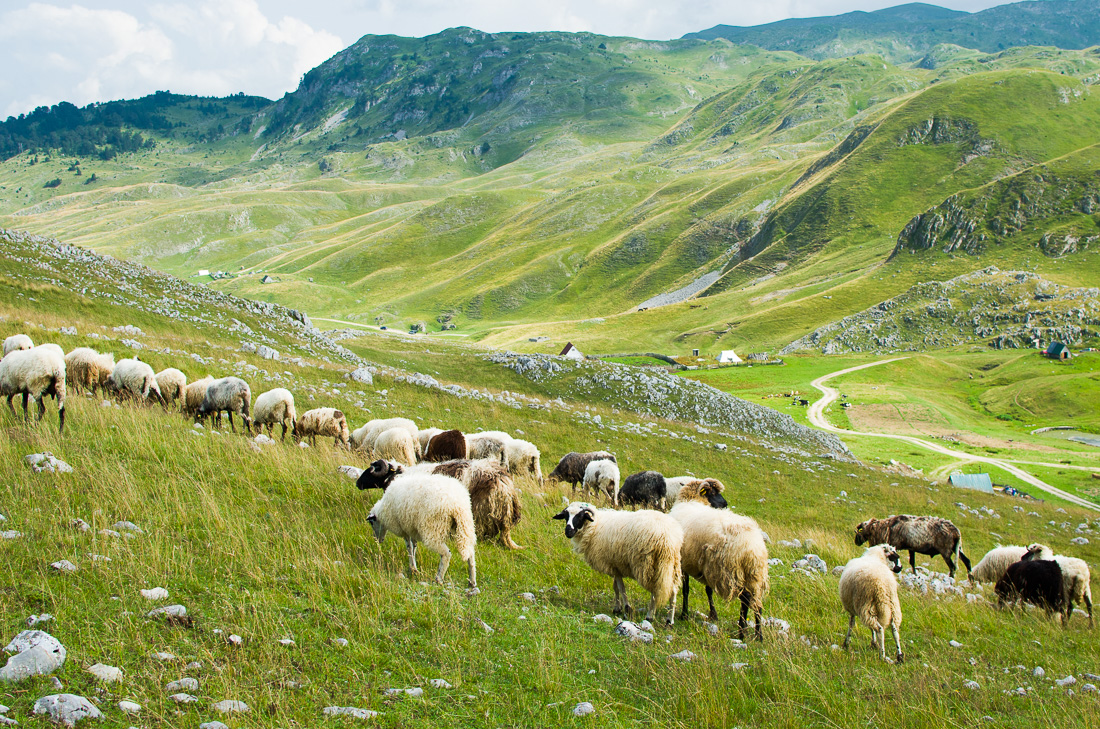 The Sinjajevina plateau is the largest mountain pastureland in Montenegro and the second largest in Europe. It has vast, highly diverse pastures at altitudes mainly ranging from 1600 to 2100m.
It is bordered by the canyons of the Tara and Morača rivers within the Tara River basin Biosphere Reserve, and surrounded by dense beech and pine forests as well as two World Heritage sites and a myriad of existing and projected protected areas.
Yet, a density of protection figures that have not halted for the moment, the inauguration last 2019 of a military and bombing training ground on top of these socio-ecologically invaluable alpine landscapes. The area has some of the most lively traditional systems of transhumant pastoralism in the country (with seasonal movement of the animals from the low-lands in  winter to highland summer pastures and the inverse movement in autumn-winter) that has made the local biodiversity co-evolve with human led practices through millennia.
The traditional mountain dispersed settlements clustered in pastoral quarters locally known as katuns, a highland territorial organization originally based in tribal structures and which was used vastly across all Montenegring mountains until the middle of the 20th century, have gradually been deserted in most mountain areas, but find in Sinjajevina Montenegro's main living representation. Sinjajevina constitutes therefore a symbol of what the almost whole Montenegrin was until just a few generations ago and therefore stands as one of the best rooted living heritages of the country.
The case study will involve the trans-disciplinary research of this rich cultural-historical and natural heritage and the potentials to reinforce it, by capitalising on the present opportunities of a growingly aware society about Sinjajevina's values, both at local and national level, for its valorisation through heritage enhancement implying sustainable and participatory patterns of use.
VICDESSOS VALLEY, EASTERN PYRENEES (FRANCE)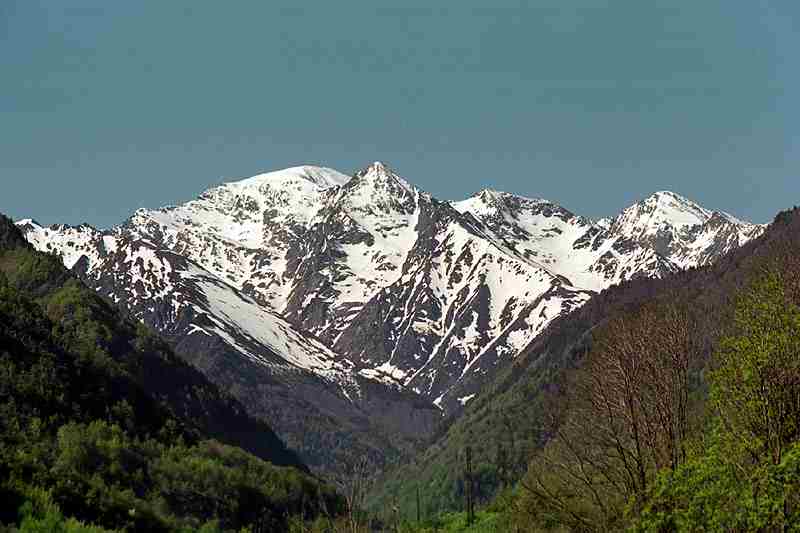 In the French Eastern Pyrenees, the well-researched Vicdessos valley has characteristics representative of many high Pyrenean valleys. It lies close to the research centres of the Toulouse federal university and hosts a Human-Environment Observatory (OHM) funded by the Labex DRIIHM for more than ten years.
Millennia of anthropisation have bequeathed complex and ancient environmental legacies: (i) extensive pastures, created from the Neolithic onwards, and threatened by the abandonment of traditional practices; (ii) a history of iron metallurgy that has durably impacted upon woodland dynamics; (iii) an aluminium industry, associated with early hydro-electric power development, that maintains people today in times of unemployment, and; (iv) afforestation policies that, since the 19th century AD, have created artificial woodlands that are difficult to maintain. The cultural and natural heritage of this area is an important asset for tourism, but it is at risk, not least from the abandonment of traditional land use practices.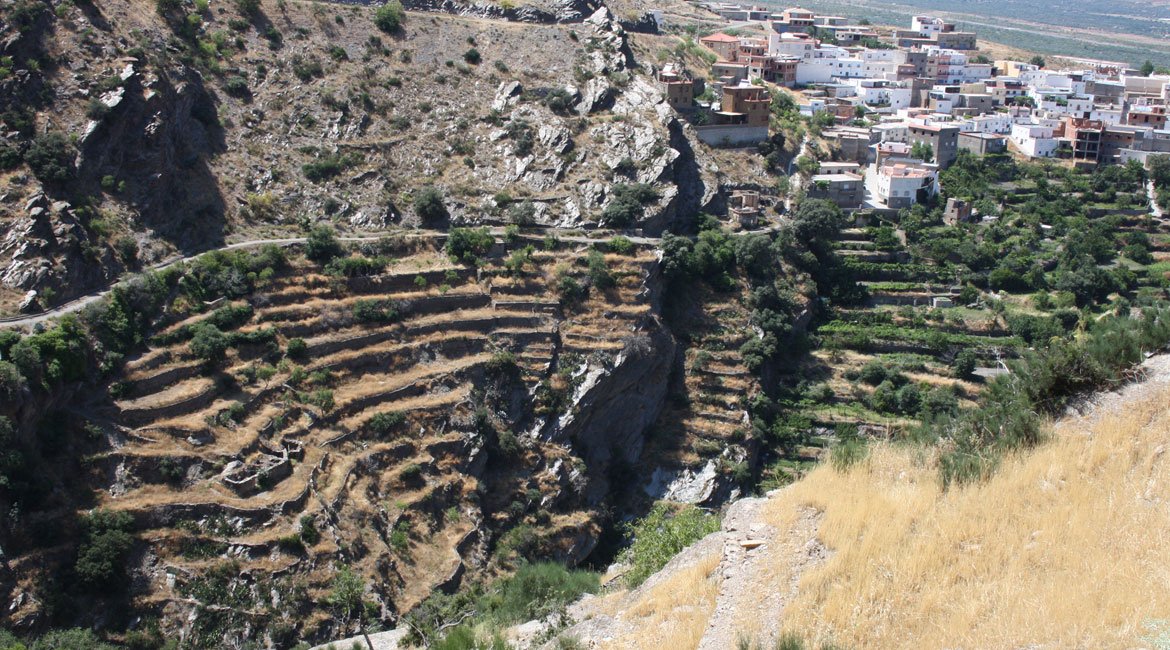 The Verde river valley in the province of Granada runs through the northern side of the Sierra Nevada range, up to 3000 meters high, and the high-plateau of the Guadix basin. It includes part of National Park of Sierra Nevada and the semi-arid high plateau (1000m). The valley contains 5 JPICH Conservation, Protection and Use IRIS 11 villages and the small town of Guadix. All have a rich cultural heritage, including castles, watermills and important religious buildings. The valley is a hotspot for climate change impacts and an area of active desertification. Historically, sustainable water management has created large irrigated areas of land, including through the use of artificial aquifer recharge systems, drainage galleries and complex communal systems to manage and share water. The main actors are the local irrigator communities, responsible for water governance and management. These strong communal institutions represent most of the landowners. Local ecological knowledge is related to water, and to soil fertility, pastures and forest management. Despite the sustainability and ecosystem services it delivers and the capacity it provides for future resilience, this landscape is under great pressure from the intensification and industrialisation of agrarian production. It is also being affected by Global Change dynamics, and threatened by economic processes, public policies and the rural-agrarian crisis.